About SunTouch® Radiant Floors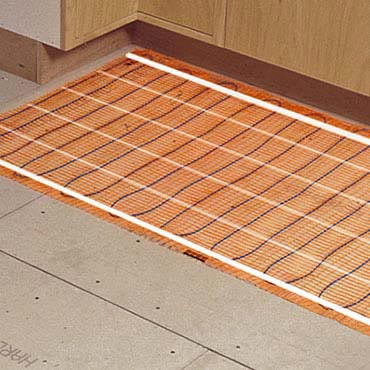 Like a walk on the beach.
Walking on a SunTouch radiant floor is like a walk on a sun-soaked beach. The electric radiant heat mats bring warmth to kitchens, bathrooms, commercial or institutional entries and just about anywhere you want warm tile, stone, or laminate flooring. And with nearly 45 different sizes of mats, you can be sure to find the sizes you need for rooms of almost any size or shape.
Warm Your Tile Floor
SunTouch® electric radiant heat mats are designed to warm tile and stone floors in bathrooms, kitchens, entries and sunrooms.

Feels Wonderful
Forget ice cold floors. SunTouch feels like a gentle foot-massage or a walk on a warm beach. Almost any surface in your home can become warm and dry.

Easy To Install
Roll out SunTouch on your subfloor. Either mat is easily installed. See our product sections for complete details.

Safety Assurance From A Superior Product
With fully armored and grounded power leads and twin wire design, SunTouch is the only electric floor warming product manufactured in America that registers no measurable electromagnetic field.
---
learn more
---
NOTE:
Providence Flooring does not carry every style of SunTouch® Radiant Floors. Check with them first about a particular product or to see if your product choice is available for special order.
---