5 Ways To Do A Quick Kitchen Makeover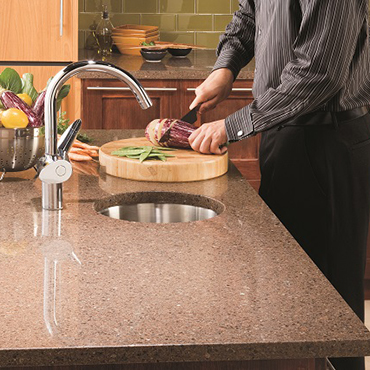 If you're growing tired of seeing the same old view when you pour your morning coffee, you could be due for a kitchen makeover. Check out these ways to spruce up your kitchen.
1. Add Style With New Countertops
Nothing will liven up a kitchen more than new countertops. Natural colors complement stainless steel appliances, but you can choose from a wide array of hues, making the look as simple or as sophisticated as you want. Granite and quartz offer a gorgeous look, and have an ultra-smooth surface that's extremely durable and easy to clean. Try mixing and matching the colors of your countertop, floor, and walls to achieve a look that is truly your own.
2. Bring Personality With a Backsplash
If you're bored with staring at a blank wall as you cook your family dinner, consider adding a tile backsplash. It's a small kitchen makeover that can be done in a weekend. With the wide variety of tile on the market, you can create your own design and pattern. Start by creating a focal point, such as a specialty tile above the stove, and then you can opt for traditionalceramic tiles or glass on the other wall areas. You can even mix and match tile and glass to complement your countertop and bring depth and texture into your kitchen. If you extend the backsplash throughout your whole kitchen, it will make the space appear larger and more unified.
3. Incorporate Simple Touches
Sometimes it's the simple things that make the biggest impact. Keeping your kitchen counters free of clutter is a good first step. Then simply displaying fresh flowers or a large plant can bring new life into your space. In the spring, tulips are beautiful. In the summer, a huge cluster of sunflowers will brighten your kitchen. And in fall and winter you can focus on holiday plants, incorporating fall foliage, poinsettias, pine, and winter twigs into bouquets--just make sure they are safe for your kids and pets.
4. Upgrade Your Hardware

One of the quickest ways to do a simple kitchen makeover is to add new hardware on your cabinets. Think of hardware — the pulls and knobs on drawers and cabinets — as the jewelry of the kitchen. Whether you want a sleek and simple stainless steel, a more rustic brushed bronze, or a statement crystal knob, the hardware is considered the finishing touch.
5. Personalize With Photos or Artwork
If you want to add a truly personal touch to your kitchen, consider adding your own artwork or photography. It can be anything from a close-up portrait to a food item or a black-and-white artistic photograph of your family gathered the table.
When you're aiming for a quick kitchen makeover, the possibilities are limitless. Whether it's your countertop, backsplash, or accessories, use your imagination and infuse your kitchen with your unique personality.
Daltile® Tile
Daltile is the country's leading manufacturer and distributor of ceramic, porcelain tile & natural stone. Built on a tradition of outstanding design, quality, and service, we set the standard for the entire industry. For over 70 years and counting, we answer the question WHY TILE? with trustworthy tile for floor, wall, and countertop that is proudly made in the USA.
---
Profile | Website