3 Tile Foyer Ideas That Will Make A Lasting First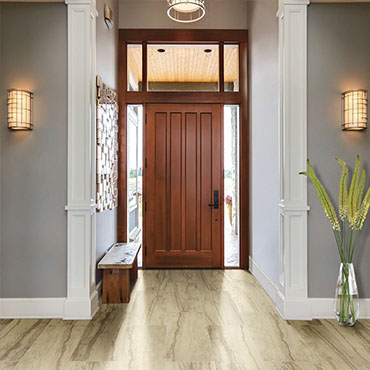 The entryway to your home is the first thing guests see upon arrival, and it sets the tone for the rest of your home. Stunning tile walls and flooring in the entrance hall can spark interest in the rest of the home, and thanks to the variety of tile products available, you can easily create a foyer that's beautiful and welcoming.
To create show-stopping looks in your foyer, start with the floors and walls. Think about the mood you want to create - whether that's traditional, modern or something in between - then, choose tile that reflects that theme and helps you achieve your design goals.
Traditional
If you desire a classic look, select natural stone tile, which gives an entryway a modern look with a hint of warmth and style. Slate, marble, quartzite, limestone, and travertine are natural stone tile types that are also available in various sizes and shapes. You can also achieve the look of natural stone with Colorbody™ and glazed porcelain stone look tiles such as Vellagio. Each style conveys a different look depending on the mood you're trying to create.
Marble has always been a symbol of luxury, and it brings an untouchable level of sophistication to your entryway. Available in various colors, its distinctive veining makes it unique and classy. It is also Granite and quartzite are less opulent but can still make a powerful design statement. Opt for the classic black and white retro combination or mix it up with three related, complementary colors for a more dynamic look.
Modern Flair
Modern style is an unexpected, nicely blended collection of textures and colors. When creating a foyer design, draw inspiration from what you might see inside a trendy, urban, hip restaurant. Mix wood-look tiles with the simplistic look of concrete-look tiles to add a contemporary dash to floors and walls.
Combine wood-look tile with glass tile to give your entryway the look of a well-worn lake pier. For something jazzier, add bright porcelain concrete-look tile, Theoretical Bold, for a pop of color. Concrete-look porcelain tile works well in odd-sized and asymmetrical entryways, and it's also easy to clean and maintain.
Rustic and Warm
For an entryway that is warm and inviting, choose a wood-look tile that brings the natural elements of the outdoors inside. Porcelain tile that mimics natural wood is manufactured in "planks," or rectangular tiles, and these tiles easily capture the rustic look of wood sheds, old barns, and woodsy log cabins for an easy-to-maintain indoor look that's cozy and welcoming. Wood-look tile is also easier to clean than traditional hardwood floors, so they are a stylish, but practical solution for a room with heavy foot traffic. Waterwood, Historic Bridge, and Creekwood are all great choices and can be set in a linear pattern.
If the foyer is the star of the show, consider making the porch and the exterior entry the backup singers. Coordinate outdoor tile with what's inside to visually enlarge the space.
Whatever theme you choose, take time to consider your design goals and review all your options before you begin your project. To find more ideas, check out our Inspiration Gallery or explore American Olean's huge selection of proven tile products.